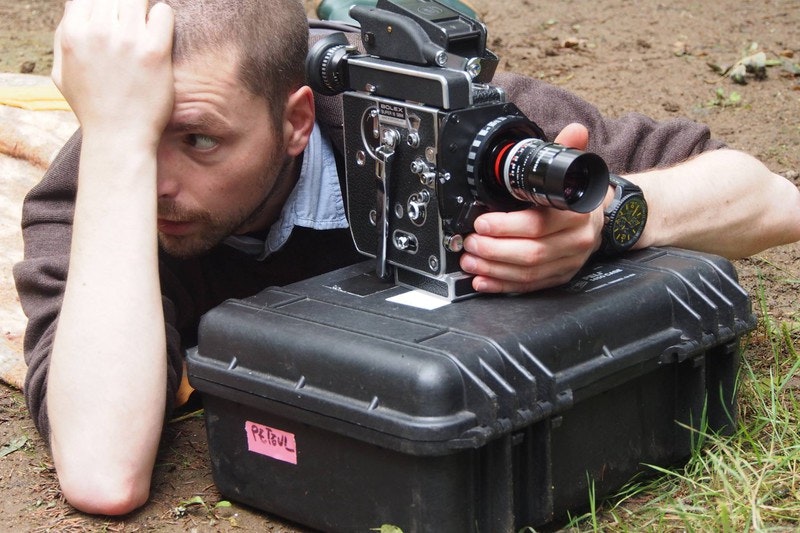 French filmmaker, works and lives in Paris. Graduated from ESRA film school of Paris in 2001.
From 2007 to 2010 in Norway, he co-writes and co-directs with César Ducasse his first feature film: DARK SOULS (Mørke Sjeler) in which Morten Rudå plays a music teacher who would do anything to trace his daughter's abuser. It is a satirical and stylized horror film using genre standards to promote an ecological message. Selected in about fifty international festivals including the prestigious Sitges and BIFFF with two nominations for the Méliès d'Argent, DARK SOULS comes back to Norway where it is officially released in movie theaters (January 2011).
After this success, Mathieu directs an experimental short film in a remote valley in Brittany, RUINS OF TIME, where Maïko-Eva Verna plays a pianist in the midst of an identity crisis. Staging a vertiginous descent into the female subconscious, the film is hailed in festivals around the world (Fargo, Amarcort, Columbus…) for its formal audacity and aesthetic search.
DAY WATCH, shot in May 2017 at an exhibition of André Dussoix's artworks at Oron castle, explores the boundary between contemporary art and film. Halfway between a documentary film and a short film, it follows a visitor's stroll, Marie Ruchat, in a labyrinthine place loaded with history.

***

Cinéaste français, travaille et vit à Paris. Diplômé de l'ESRA en 2001.
De 2007 à 2010 en Norvège, il co-écrit et co-réalise, avec César Ducasse, son 1er long-métrage : DARK SOULS (Mørke Sjeler) où Morten Rudå interprète un professeur de musique prêt à tout pour retrouver l'agresseur de sa fille. C'est un film d'horreur satirique et stylisé, qui utilise les références du genre pour appuyer un propos écologique.
Sélectionné dans une cinquantaine de festivals internationaux dont les prestigieux Sitges et BIFFF avec deux nominations au prix Mélies d'Argent, DARK SOULS revient en Norvège où il sort officiellement en salle (janvier 2011).
Après ce succès, Mathieu réalise un court-métrage expérimental dans une vallée perdue en Bretagne, RUINES DU TEMPS (Ruins of Time), où Maïko-Eva Verna interprète une pianiste en pleine crise identitaire. Vertigineuse plongée dans le subconscient féminin, le film est salué dans les festivals du monde entier (Fargo, Amarcort, Columbus...) pour son audace formelle et sa recherche esthétique.
RONDE DE JOUR (Day Watch), tourné en mai 2017 à l'occasion d'une exposition d'André Dussoix au château d'Oron, explore la frontière entre l'art contemporain et le cinéma. À mi-chemin entre le documentaire et l'expérimental, le film suit les déambulations d'une visiteuse, Marie Ruchat, dans un lieu labyrinthique chargé d'Histoire.